25.12.20
HUGE LIGHT INSTALLATION BY MARTIN CREED WILL LIGHT UP THE WINTER DARKNESS IN CENTRAL COPENHAGEN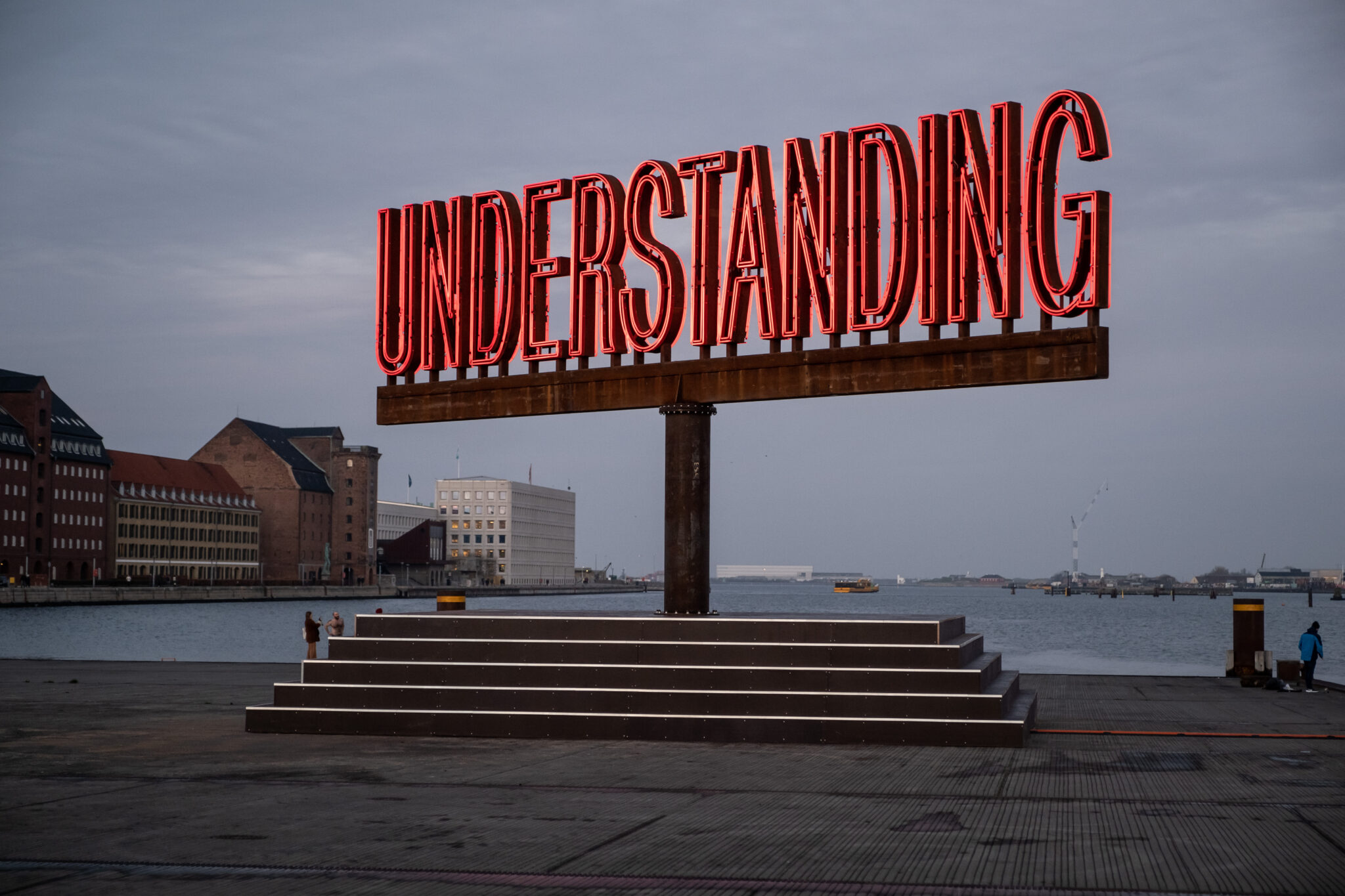 The 8-metre tall and 15-metre long artwork 'Work No. 2630 UNDERSTANDING' by the world-famous British artist Martin Creed (b. 1968) will light up the winter darkness in central Copenhagen as an artistic gesture to the public spirit we all show at the moment. The rotating work, that previously has been raised in Brooklyn, New York, with Manhattan's skyline as a backdrop, was originally intended to be installed at the cancelled Roskilde Festival no. 50 last summer. 
'Work No. 2630 UNDERSTANDING' is now installed by Roskilde Festival as a new temporary landmark at Ofelia Plads in central Copenhagen, with the Royal Danish Playhouse to one side and the Opera House to the other, and calls for hope and understanding in a time that is difficult for many. 
'Work No. 2630 UNDERSTANDING' has been raised by Roskilde Festival in collaboration with Creator Projects, New Carlsberg Foundation, The Augustinus Foundation, The Royal Danish Theatre and Jeudan with further support from Hauser & Wirth.
02.12.20
NEW SITE SPECIFIC ARTWORK FOR FREDERIKSBJERG SKOLE
ANDREAS SCHULENBURG
We are happy to announce that the Danish artist Andreas Schulenburg will create his site specific artwork "Krusedulle på papir", meaning "a curlicue on paper", for the big common area at Frederiksberg Skole in Aarhus, Denmark.
Andreas Schulenburg is known for his cheerful approach to art and his sense for details. With his sculptures and objects in felt, he strives to make us curious and to develop new fun spatial experiences which will become an interesting and natural topic of conversation at the school. The artwork will represent the idea generation emerging in the mind of students when solving a problem, or working on a school project. The work will be felt on canvas and will represent a paper in a typical A4 letter format but ten times bigger. A black curlicue will be attached to the canvas, and the work becomes alive with a three-dimensional pencil, visualizing the movement of an actual pencil drawing a curlicue.
The artwork is realized by Frederiksbjerg Skole in collaboration with Creator Projects and supported by Statens Kunstfond.
Daniel Buren 19 May–29 August 2021
DANIEL BUREN
The world-renowned French artist, Daniel Buren (b. 1938) takes over EMMA's exhibition space during summer 2021. Buren, who is known for his radical, « in situ » practice will create entirely new works for EMMA (Espoo Museum of Modern Art). The works will build on the horizontal and open features of the museum's architecture, along with its natural light. Along with the exhibition, interventions and events by Buren will take place in public space. Daniel Buren is a giant in the field of contemporary art, with a career spanning over 50 years and more than 3.000 site-specific exhibitions around the world.
The exhibition is curated in collaboration with the Danish art agency Creator Projects.
04.05.20
WILLIAM SOYA IN CPH AIRPORT
WILLIAM SOYA
The danish artist William Soya (1927-1992) has created a large sculpture, that was previously installed in the ceiling in Kolding Library. After the library moved, the piece was kept in a storage room. With generous help from the Danish Arts Foundation, Soyas work will now be preserved and moved to the new part of CPH Airport, Finger E. Throughout his practice Soya experimented with geometry, abstract forms and opposed the division between sculpture and painting. This piece is a fantastic example. He was part of the revolutionary 60's international art movements here among Fluxus and the concrete art movement. Travellers will experience an important piece in danish art history, which draw lines to the global art scene. This relocation will mean a great deal for Soyas legacy and position in danish and international art history.
"Art in the airport should bring surprises, calming surroundings and a sense of the place and country. Soyas piece will provide travellers from all over the world with the possibility of experiencing acknowledged danish art. We believe, we are very lucky to have received this art piece as a gift," – Henrik Vahlun, project manager at CPH Airport. 
06.03.20
PIPILOTTI RIST AT DMJX
PIPILOTTI RIST
We are very proud to announce that swiss media artist Pipilotti Rist (b. 1962) will do a commission for the new Danish School of Media and Journalism (DMJX) campus. Rist will create colorful light- and video installations that will highlight the architecture, floors, ceilings and floors and move around throughout the day. Creator Projects will provide art consulting throughout the project and the commission is realized in close collaboration with Arkitema Architects and light architects Kollision. For more information click here. 
20.11.19
GIRLIFICATION BY PETRA KLEIS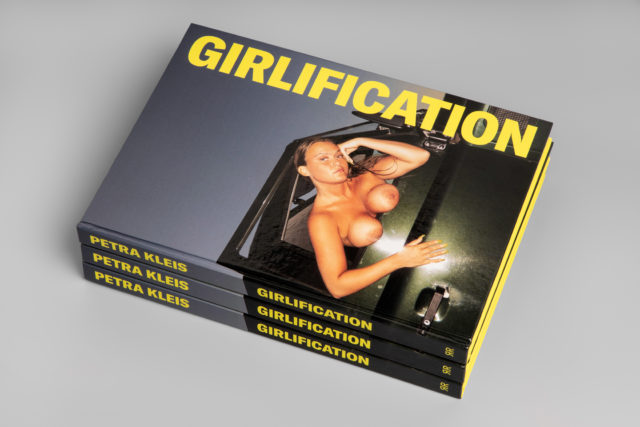 Girlification is a testimony of photographer Petra Kleis's deep fascination of artist Maja Malou Lyse, her freedom, and playful mind. Over the course of three years Kleis has been documenting Lyse, as both an artist and a muse, creating a fun and sexy portrait in book format.
The book reads as a classic work of erotic photography: the female muse, explored and examined by the photographic gaze. Shot casually and sporadically, the photo series portrays the female model as a desired object and a desiring subject: dressing up, dressing down, or overtly reproducing classic motifs and archetypes of contemporary Western sexuality. Visually, the photographs are inspired by pioneers such as Juergen Teller, Nan Goldin, and Helmuth Newton.
GIRLIFICATION is a manifestation of the contemporary digital age as it draws attention to topics as internet porn, nude selfies, #MeToo, and social media censorship. 
The photographs are accompanied by texts written by curator and cultural critic Jeppe Ugelvig and American post-porn ecosexual artist Annie Sprinkle. 
The book is launched by Roulette Russe and available for purchase www.rouletterusse.dk.
Price 400 DKK
The publication is supported by Ragnvald and Ida Blix' Fond.
01.07.2019
ART BEFORE TAKE-OFF IN COPENHAGEN AIRPORT
ALEXANDER TOVBORG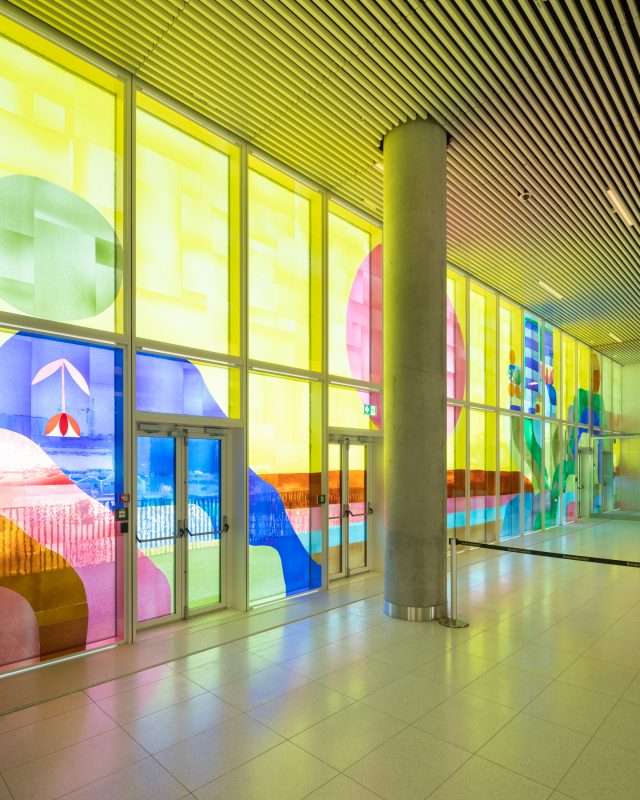 Alexander Tovborg's monumental glass mosaic "Sphinx and Nature" shows a sphinx in a landscape featuring sea, rocks, mountains, and an extensive sky. The enigmatic and mysterious sphinx with a lion's body, a female head, and wings is poised between animal and man, deity and nature, Heaven and Earth. A sun traverses the yellow sky, indicating the passing of time and the transition from one state to another. The motif also recalls the airport as a point of transit for starting or finishing a journey and as a global connective agent in an ever more international world. The warm colours are chosen for their ability to induce tranquillity and harmony in the pulsating airport environment while the motif inspires common narratives irrespective of age, gender, or nationality.
HUSKMITNAVN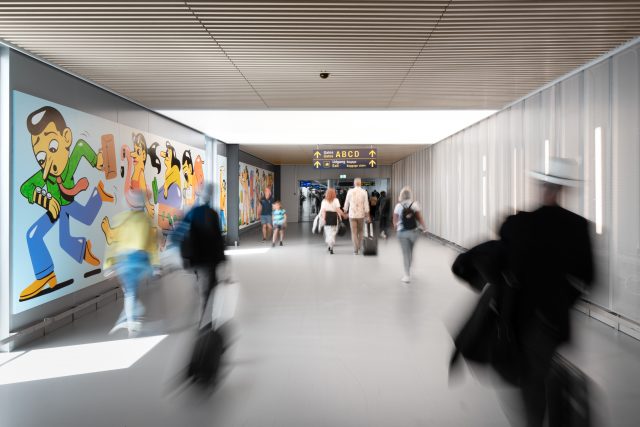 The Danish visual artist HuskMitNavn (RememberMyName) has created a mural specifically for the connecting corridor leading passengers out to Pier D and E. The monumental mural 'Airport People' measuring 26.4 x 1.8 m is about journeys from or to new adventures, jobs, or romantic encounters. The intention is to instill a sense of cheerful anticipation and empathy in airport travellers and to remind us to embrace everyone regardless of where we come from or where we are going.
"The figures represent affectionate portraits of airport users. From the hectic businessman, the weighed-down family group to the couple, very much in love and heading for Paris. The idea is to give passengers a good start to their journey by spotting themselves and others in the figures," HuskMitNavn
26.06-19
SLIP BY ASBJØRN SAND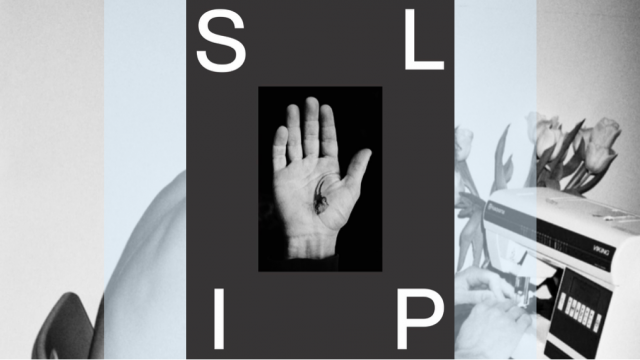 SLIP is an intense documentation of the skateboarding community in various Danish cities shot by photographer and skater Asbjørn Sand.
The book is a poetic and universal portrait of the skateboarding community and portrays the youthful doubt, curiousness, and love found in there.
SLIP is published 1st of July by Roulette Russe and can be preordered at www.rouletterusse.dk. 
The publication is supported by:
Politiken Fonden, Ernst B. Sund Fonden og Dansk Journalistforbunds Ophavsfond
Price: 199 kr
25.06.19
SOLHVERV BY FRYD FRYDENDAHL & LARS GREVE
– a visual and auditive portrait of Western Jutland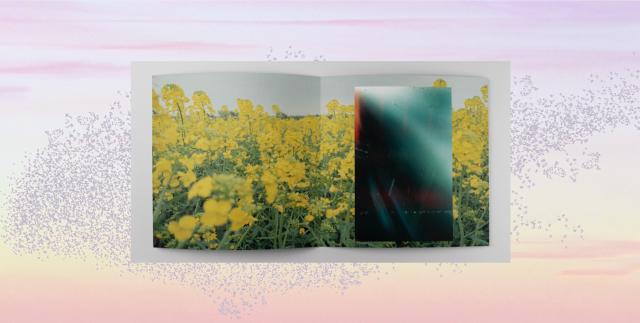 Solhverv is a combined visual and- audio publication created by childhood friends and acclaimed artists; photographer Fryd Frydendahl and musician Lars Greve. Through both sound and frames, it aims to portray the municipality of Ringkjøbing-Skjern and the community within. The publication consists of photographs and video stills by Frydendahl and a vinyl record with music composed by Greve.
The book was launched at summer solstice 2019 by Roulette Russe and is available for purchase at rouletterusse.dk.
Price: 500 kr
The publication is supported by:
Statens Kunstfond, Ringkjøbing-Skern Kommune og DJBFA – Danish Composers and Songwriters.
DISEGNO BY CHRISTIAN LEMMERZ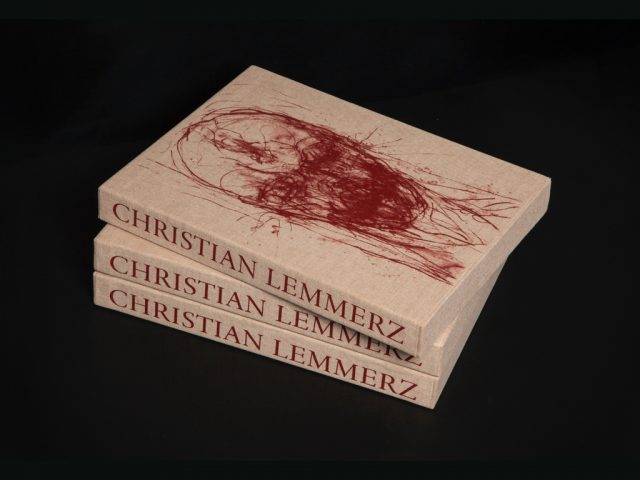 Disegno is dedicated to the danish-german artist Christian Lemmerz's drawings. The book is newly launched and available for purchase at www.rouletterusse.dk.
Price: 399 kr.
The publication is supported by:
Danish Arts Foundation, The New Carlsberg Foundation, the Beckett Foundation, A. P. Møller Foundation, Lilian and Dan Finks Foundation, and C.A.C. Foundation.